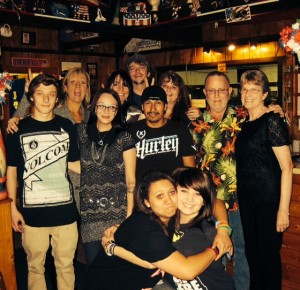 America's Most Delicious Pit Stop
Whether you're on your way to Yellowstone National Park, preparing to spend the day in the great outdoors or simply want a hearty meal, join us at Yankee Doodle's Cafe, where the home cooked meal and family feel will not only fill your tummy but your heart as well. We promise generous portions of lip-smacking-good food to fuel your adventures and leave you satisfied long after!
Meet Our Owners!
Gary's Story:
Gary started as a restaurant dishwasher working his way through college. When a cook didn't show up for work one day, he was promoted, and has never looked back. Gary spent 20 years as cook, sous chef, then chef and finally food and beverage director in hotels from Alaska to New Orleans, as well as St. Louis, and Jackson Hole. After taking a few years off, he realized that making and serving delicious food was in his blood. When Yankee Doodle's Cafe' came up for sale, Gary and his wife, Marietta, jumped at the opportunity!
Marietta's Story:
Marietta was a teacher for many years before becoming an HR manager. During some of the many moves she and Gary made together, she would work as a waitress or provide extra help when Gary needed it, whether that was washing dishes or cooking. Gary refers to her as the "glue that holds everything together!"
Here's what Gary and Marietta have to say about Why they do What they do:
We LOVE people and adore visiting with tourists from all over the world. We love to cook and plan menus based on what we know our customers will enjoy. Watching someone relish our food is wonderful and satisfying. Just wish we were younger. 🙂
We picked an American theme (you have to see it to believe it!) because Gary was born and grew up overseas in Hong Kong, Singapore, Philippines, and Indonesia. Having only spent short vacations in the States, Gary finds Americana especially meaningful, particularly after 911.
We'd love to have you visit, taste some of our homemade Carrot Cake (there's nothing like it ANYWHERE), and enjoy the warmth of feeling like you're home.